Sculpture Corner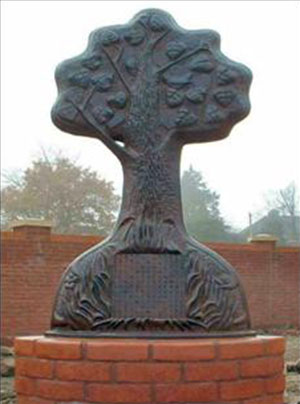 Cast Iron Family Tree
By Ailsa Magnus decoration for new housing estate in Harrogate. 1.8m tall.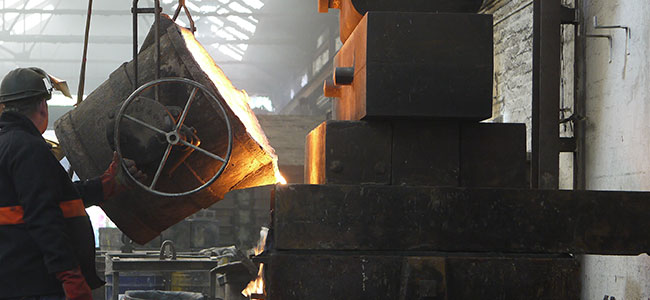 ADI
An abbreviation for an amazingly versatile iron.
An abbreviation for an amazingly versatile iron. Austempered Ductile Iron (ADI) Take some special SG iron, heat treat in a bath of hot salt. The result is a complete change of properties and characteristics beneficial to any design engineer. Significantly improving tensile strength, ductility, impact and fatigue resistance. This material with work hardening characteristics, allows the designer the ability to replace steel castings and forgings with a product 10% lighter, size for size, cast with more accurate definition and better nearness to shape. The properties and uses are so diverse it requires the reader to do his own research. With the possibility of great cost savings the engineer should research the benefits at the site below. www.ductile.org
This is a very comprehensive American site with an extensive amount of data available on both ductile irons and the austempered irons. Albeit the only fall back is the use of lbs for strength and Fahrenheit for temperature. However, once the scope and variety of this material is recognised in the UK, it is seen to be a designer's dream , a strong, durable, iron, that elusive material, just what engineers have been looking for.
---
Legislation, Legislation, Legislation
More and more of our costs and time are going on legislation for employment, legislation for the environment, legislation for insurance, waste management, fire departments, furnace licences, electrical legislation, vehicle legislation, reporting theft... Seems like the good times have gone forever, they sure aren't just beginning. Might be the mutterings of a grumpy old man in an unfair world market, but I have yet to see any benefits to production, our work force or the environment. Our waste sand, which was a delight for capping tips, cannot be used any more for this purpose purely because of legislation, so we now incur huge dumping costs. Legislation, because of bureaucrats, lacks both the use of knowledge and more so commonsense in its forced application across industry.
---
Pattern Codes
Colour coding of the pattern equipment gives information to the moulder. There were three prime colours used to identify various areas of the pattern. Yellow, which seems to have dropped out of use, was used to highlight areas to be machined, and were preferentially cast in the bottom of the mould. This in days of old before new ceramic filters allowed cleaner metal. Red is the base colour and depicts where there will be metal. Contrary to Red, Black is used to show where a core has to be positioned to form a hole, or in some cases where the core may touch the side of the mould to form a window. Alloy letters and numbers are used on the pattern, together with our logo, becoming an integral raised part of the casting when cast and providing a permanent form of identification.
---
Pattern Storage
We have on our records over 14,000 patterns, bear in mind some are as large as a car, some may have up to 50 core boxes and loose pieces. Each item we make has a computer generated 'Pattern Card'. This card holds all the pattern information, including where it is located, when it was last used and the order number, material to be cast in, internal costings, number of patterns, core boxes and loose pieces, methods etc. The storage area is limited so we like to return customer patterns with their castings, unless there are to be repeat orders. Owing to the nature of the materials used to make patterns, generally wood and metal, we cannot afford to insure them on our premises, although we take every care, we do remind customers they have to insure their own pattern equipment against fire damage and other losses in the case of a disaster.
---
Future Plans
New Computer System
Our bespoke version of Windows 95 will soon be replaced, with an updated version. Strange as it is, it still works better than anything did before 1995…. But we require some improvements and the fact that no programmes are 95 compatible means a huge upgrade. The reason for the change to our system is to improve scheduling in all areas of production within the foundry.
---
New Furnace
A 100 kg furnace for producing those special one offs in various Ni-Resist grades may be another purchase this year. This will allow us to offer a service for smaller production runs and should help us achieve a quicker turnaround for the panic 'breakdown' casting in BS3468 and ASTM A436 and A439 Ni-Resist.