Castings
Whether your needs are simply for 'black' casting or for a fully certified finished product, H.Downs & Sons can meet your needs for any additional services required.
Contact us
01484 428203
Engineering Castings
We manufacture a broad range of castings to British Standards, across many industry sectors. Click on the images below to find out more about the typical castings we produce.
Extruder parts
At the front are two halves of an extruder part, the internal ribs are cast by the use of a core box. The material is a grade 300 cast iron, giving added strength and a little extra wear resistance.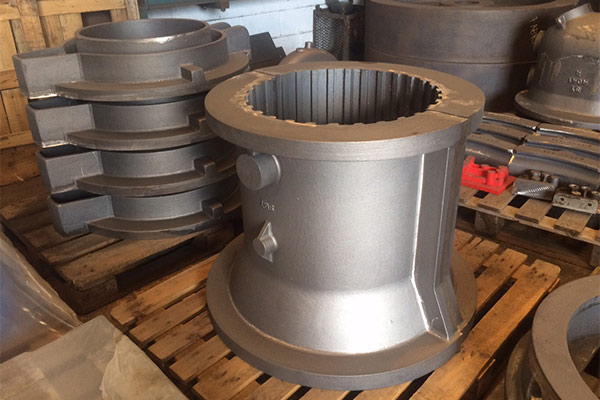 Wear Plates
'Wear Plates' for a pan bottom used for crushing stone and clays for such things as brick making. The plates are made from Ni-Hard, the material is too hard to drill so the bold holes are cast in using cores. There is a lifting eye on each casting which is removed when it is in position. The castings line the bottom of the pan and are replaced when worn.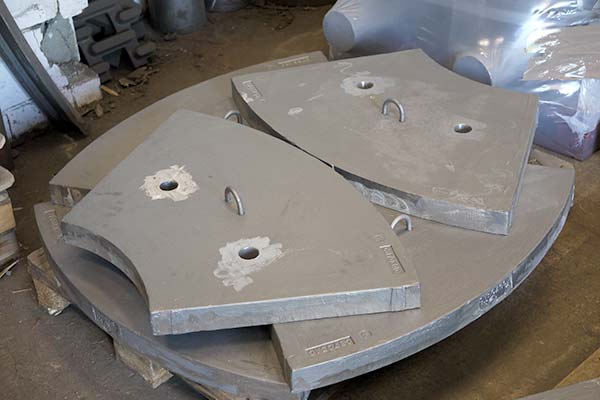 Double Impellor
An impellor made in Ni-Resist S2W. The blades are on both sides of the casting. Another pump part for salty water.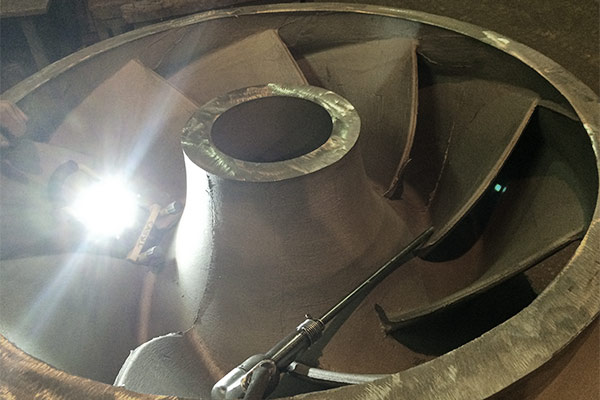 SG Iron drain & cover
These were made as a small special batch for a company which wanted to keep the same style of drainage to complement their existing drainage, however, the area they were being used required substantial strength to cope with the passage of heavy vehicles.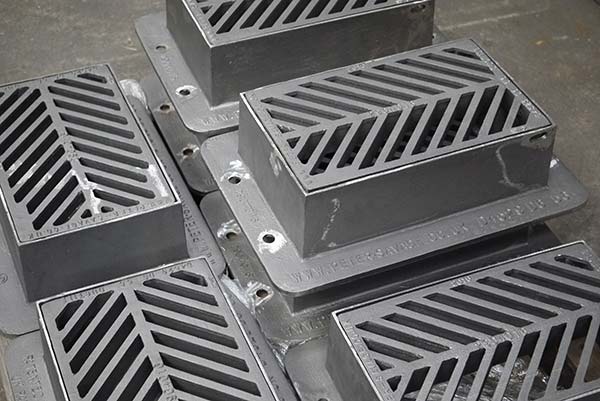 Sinker Weights - Standard Design
We can produce cast iron weights or sinkers supplied to your own design and fitted with lifting shackles or cored out for bars for attaching hawsers.
Sophisticated shaped weights for forklift trucks, ship's keel, keel weights can be manufactured to suit the customer's design.
We manufacture a Standard design which incorporates the following:
Forklift access for ease of handling
Stackable
Cast in Steel eye bolt to suit your attachment
Cast in weight identification
Flat and wide for sea bed adhesion
Available in the following weights:
100kg, 120kg, 125kg, 150kg, 200kg, 250kg, 450kg, 500kg, 600kg, 750kg, 1000kg, 2000kg, 3000kg, 4000kg, 5000kg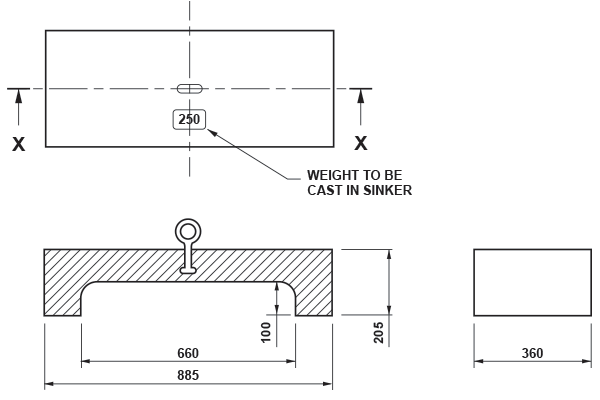 Sinker Weights - Trinity Design
We can produce cast iron weights or sinkers supplied to your own design and fitted with lifting shackles or cored out for bars for attaching hawsers.
Sophisticated shaped weights for forklift trucks, ship's keel, keel weights can be manufactured to suit the customer's design.
Purpose built sinker weights, designed by Trinity House. Cast with a concave base for added suction to the seabed. Forged steel bars for shackles. Available for immediate production in the followings sizes.
1000 Kg, 2000 Kg, 3000 Kg, 4000 Kg, 5000 Kg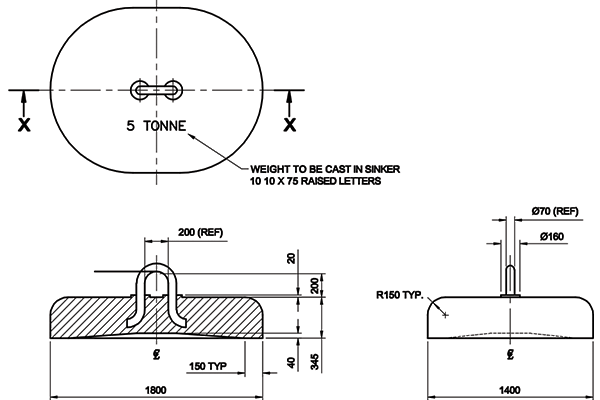 Bars, Blocks and Rings
Manufactured from Grey Iron, SG/Ductile, Ni-Resist, Ni-Hard, Chrome Irons, Haematite, ADI and Iron Alloys to any shape and size including:
Bar, Rectangle, Square, Discs, Blanks, Rings
For unavailable sizes we can produce economically any diameter upto 3.5m. For rings, with larger inside diameters, we cast a hole in the middle saving on machining time.
---
For longer lengths and smaller diameter, our friends at United Cast Bar (Tel 01246 269 293) manufacture many materials by continuous casting process through dies.
For sizes less than 12" (300mm) diameter they will be more economical, long lengths of bar can be produced.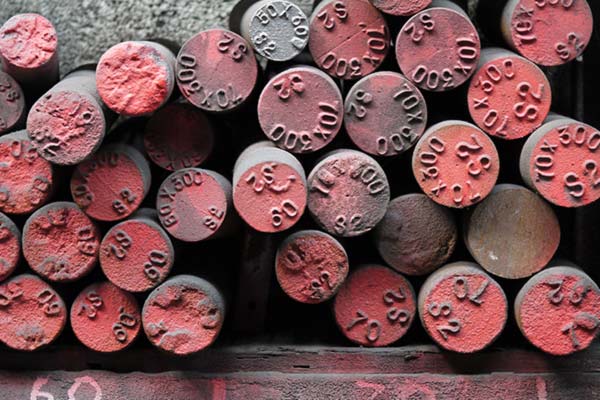 ---
| | | | | | | | |
| --- | --- | --- | --- | --- | --- | --- | --- |
| BS | BS1452 | BS2789 | BS3468 | BS4844 | | | |
| BS EN | BS EN 1560 | BS EN 1452 | BS EN 1561 | BS EN 1563 | BS EN 1564 | BS EN 1564 | BS EN 1564 |
| AS | AS 1830 | AS 1831 | | | | | |
| M | M 3191 | M 3193 | | | | | |
| NBN | NBN830-01 | NBN830-02 | | | | | |
| DS | DS11301 | DS11303 | | | | | |
| SFS | SFS4855 | SFS2113 | SFS2113 | | | | |
| NFA | NFA32-101 | NFA32-201 | | | | | |
| DIN | DIN1691 | DIN1693 | DIN1694 | | | | |
| NEN | NEN6002A | NEN6002D | | | | | |
| UNI | UNI5007 | UNI4544 | | | | | |
| NS | NS722 | NS11301 | | | | | |
| MNC | MNC705E | MNC706E | | | | | |
| ASTM | ASTM A48 | ASTM A536 | ASTM A436-84 | ASTM A532 | ASTM A436 | ASTM A439 | |
| ISO | ISO2892-1973 | | | | | | |
| MILG | MILG-858B | | | | | | |
Ni-Resist S2W pump
Ni-Resist S2W pump part for saline water operation. The use of Ni-resist for saline conditions is common, the structure and chemistry of the iron is much more resistant to the corrosive effects of the water, The 'W' in the material specification denotes that the material can be welded.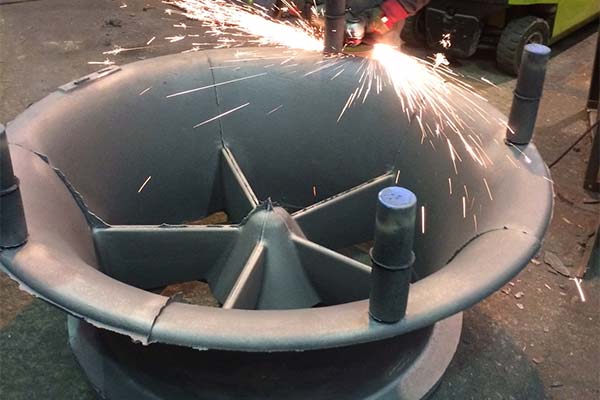 Ni-Resist S2W pump casing
Ni-Resist S2W pump casing. This one was for use on a dredger vessel, again for the benefit of the composition of the material and its tolerance to the corrosive brackish waters of estuaries.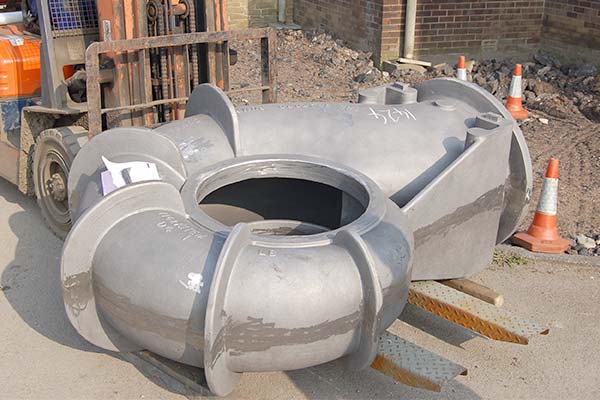 Pump casing manufactured in SG 600/3
A complex casting with various flow channels and entrances and exits.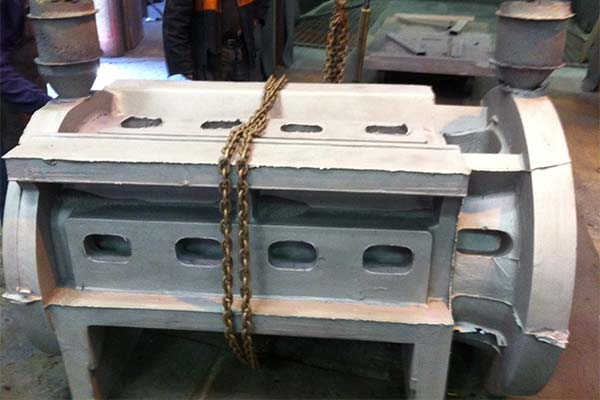 Windmill renovation
Half a water wheel 12 foot diameter, the centre square area is where the axle is fitted, the cross members between the two diameters are where the paddles will be fitted.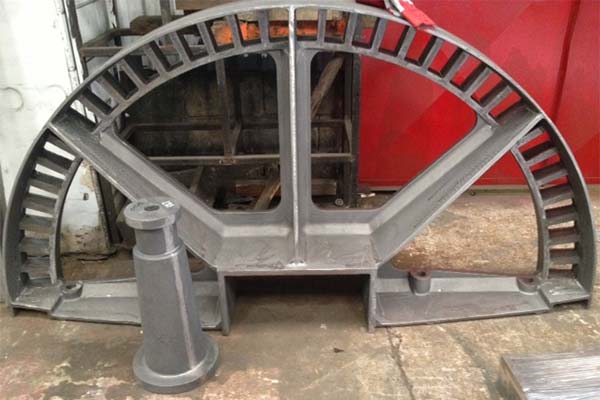 SG Iron 700/2 valve casting
The SG iron provides a greater strength than normal cast iron and this grade has good hardness to contra the abrasion of the flow of material.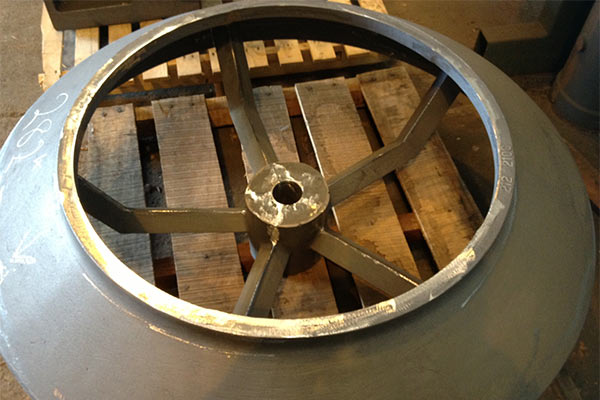 Machine bed
The photograph is taken in the shotblast room before the casting is fettled to remove the excess material around the cored holes and the joint lines of the pattern. The finished casting weighs 4.2 Tonne and the equipment consists of 1 x pattern 30 core boxes and 35 loose pieces. Some of the cores are repeated in the mould and the loose pieces are used to allow undercuts in the finished casting. The casting is made in one of three pits that are within the foundry floor.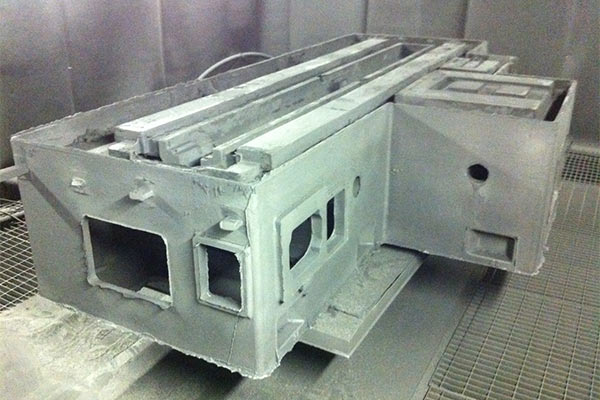 A simple route marker
The castings are embedded into the walkway/pavement, some can be directional including arrows, some commemorative. The iron is hard wearing and will take on a natural patina as it is walked over. We have achieved the ripple effect to make the letters more pronounced. The casting has a lip beneath to anchor it into the concrete.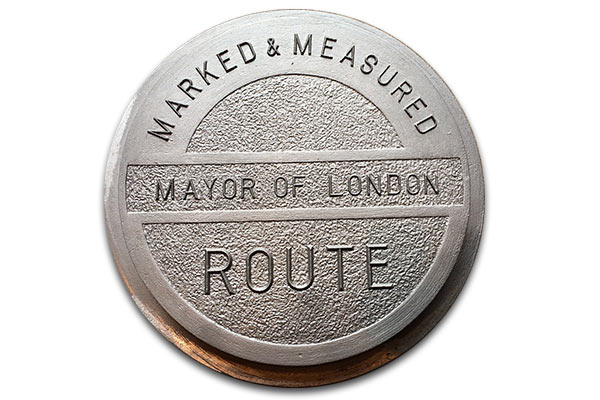 Private bridge
A private bridge was severely damaged by a fallen tree. Replacement castings were required for all sections, the weight of the tree had cracked the whole structure, top, side and lower sections. In some areas we could we the existing pieces of bridge to replicate. Other pieces required some new pattern making input.
Church window
A replacement church window damaged in restoration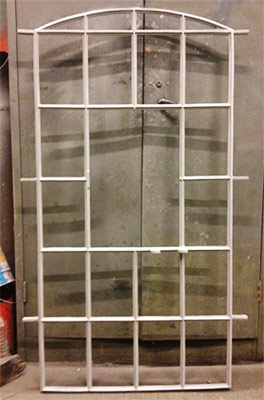 Blower body
3 Tonne Blower body for Dresser Roots. The bodies are from pumps which move by vacuum as opposed to the medium passing through the body.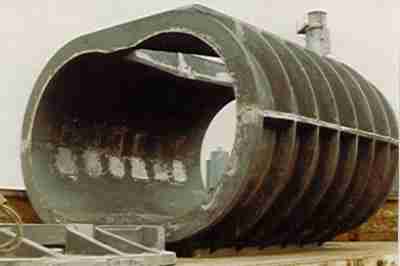 Printing machine casting
Castings supplied for a machine designed for the continuous supply of paper to a printing machine.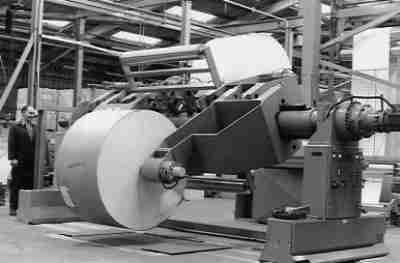 Compressor Cylinder
Compressor Cylinder cast in Grade 300 Cast Iron.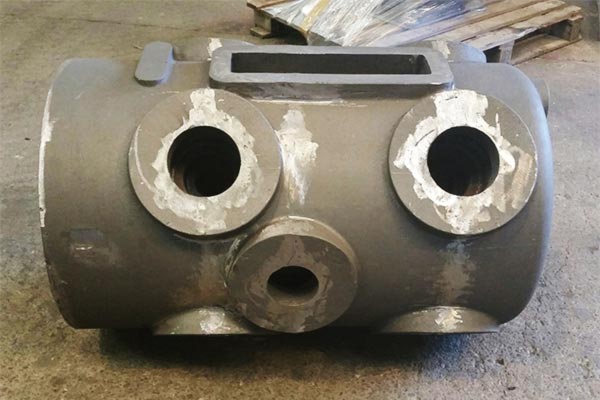 Crown wheel
Crown wheel for driving a crushing machine used in a quarry. The teeth are cast in. The picture shows the mould split with the pattern painted silver still held in the top half of the mould. When the pattern is removed the mould top will be put on and the molten metal poured into the mould will fill the cavity.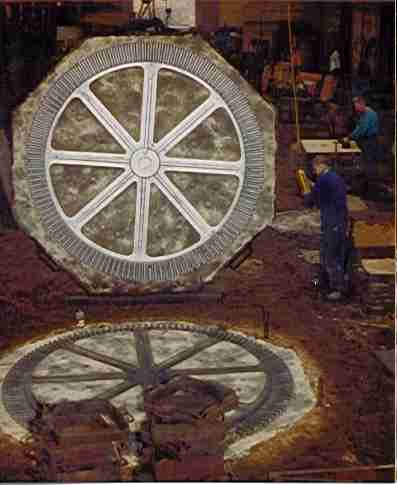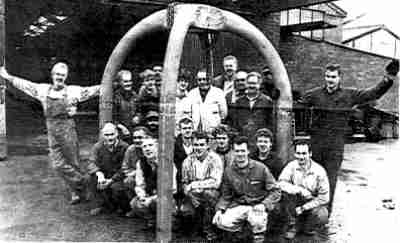 A paddle mixer arm
Produced for ICI Chemicals to stir acidic material in large vats.
Valve body
96" NB Valve Body leaving on transport.