Sculpture Corner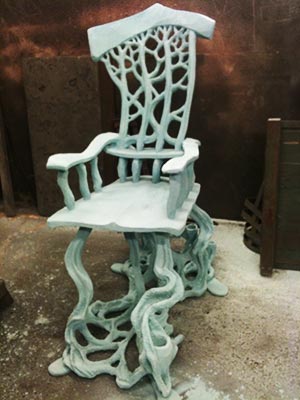 Jason Thomson 'Chair'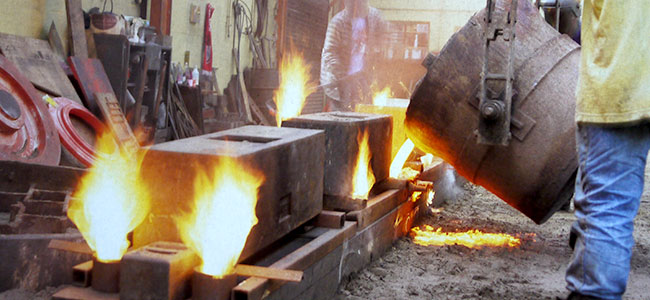 Apprentices and Appraisals
Having spent several weeks in each department out apprentices quickly found the areas in which they felt comfortable. One patternmaker, one moulder and a coremaker. As well as working throughout the foundry and assisting in other areas they all look to be permanent fixtures and soon the technical education will begin. The whole foundry workforce has been through an appraisal to establish their capabilities, working practises, quality of work and attitude. This management technique has proved to be very successful and both sides have listened and taken on board the positive criticisms evolving from the discussions.
---
Winter Problems
The Extreme cold of winter gave us problems we hadn't experienced before, especially in castings such as rolls which are long and thin, the metal has to cover a longer distance to fill the mould from bottom to top. The extra 15 degrees of frost proved to be too effective in holding condensation in the mould and chilling the iron too quickly. So we had moisture turning to gas and the gas produced from the chemicals within the mould normally travels through the liquid iron to escape. However, this extreme cold seemed to have cooled the iron too quickly and made it more sluggish which has had the affect of capturing the gas in the casting. Fortunately the problem was quickly spotted, a sound looking casting, which we never have problems with when machined, looked akin to an Aero bar at the top end. A replacement was quickly under way and a selection of hair dryers were bought to take away the winter chill by blowing warm air through the moulds.
---
Chemical Trials
The foundry chemicals used to harden the sand have two problems, first they smell which gives the foundry its distinct odour. Secondly they contain sulphur, which can build up in the system and cause problems of gas pin holing in castings and may react with the magnesium in ductile irons causing a loss in properties. During 2011 we are to try new sand chemicals, which if successful will reduce both these problems and consequently lower the 10% of old sand we have to dump daily to keep the present process balanced.
---
Enquiries Soar
Late 2010 and the few weeks into 2011 has seen over 25% rise in the enquiry level over any year since we kept records from 2002. We put this down to the instability in prices from the Far East and the Eastern Bloc. Our capabilities of a quick turnaround of enquiries and castings, together with a large range of metal specifications coupled with our capacity to produce castings up to 5 tonne makes us a favourable alternative. We have our own pattern shop, and moulding boxes to produce castings to 6m in maximum length, 3.5 m maximum in diameter and a pit which allows us to cast rolls vertically up to 3m in height. A track set up for smaller castings in either small or larger quantities gives us the versatility to produce a customer's whole range of castings. We produce pump casings, impellors gearboxes, gearwheels, wheels of all sizes, rollers, bearings, art work, heritage, street furniture, chemical and petroleum, aerospace, textile machinery parts, packaging equipment, marine, sinker weights, counterbalance weights, lock gate castings, capstans and bollards, crushing and mining equipment, railway and tram equipment as well as all types of machinery parts in all materials with a weight range of 1/2 to 5000 kg. We do not have any one customer who takes over 10% of our turnover; this keeps us in a stable position within the market. Several of our customers have been with us over 50 years and many others for the 23 years since we purchased John Booths, which gave us the capabilities to produce SG and other specialised irons. We are here to stay, with a solid workforce and a reputation we have gained over the years in giving the customer what he wants.