Sculpture Corner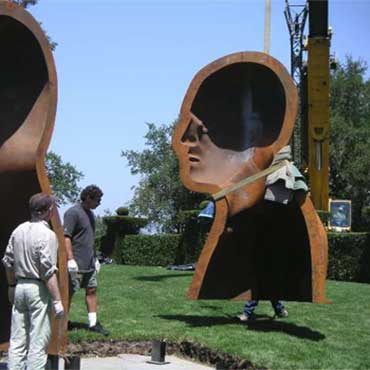 Janus Heads
Heads seen to be looking both ways at once, from inside and out. Commissioned for a collector in California cast in iron, 4 pieces, and bolted together. The Artist ,Peter Burke, worked along side us to produce these statues standing 3.3m high and weighing 3.8 tonne each.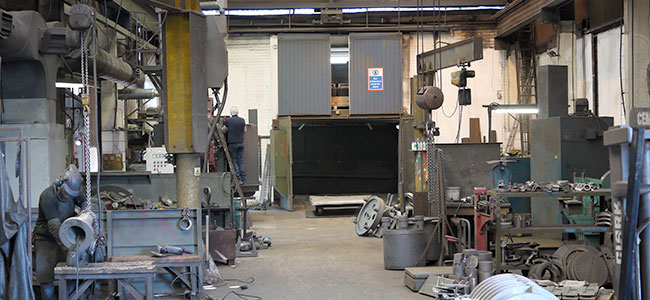 Moulding the two foundries into one area of production
With the recent acquisition of land adjacent to H. Downs foundry in Huddersfield, we are heading towards moving both foundries to one site. The advantages should be seen by both ourselves as suppliers and by our customers. The moving operation will be a test of logistics, pre-planning and hopefully sufficient foresight for it to be a mere blip on production. The new site will allow all moulding, core making and casting to be carried out within one building area allowing a greater scope for production and material capacity increases. Each area is being designed around procedures of production, which have proved to be efficient in the past or now require up grading with the introduction of new materials and practices. Management discussion has brought together ideas to achieve the best of both. The main new acquisition will be a new shot blast unit updating our 1959 model!!!. Further investment in a new electricity sub station to provide the power for the two electric furnace bodies from John Booths, together with building work, will allow both the electric and cupola furnaces to work together in the same production building. A detailed management structure of all present personnel has been agreed so each of the production areas are covered and overlap giving greater flexibility. The timing of all this is towards the end of 2004, when the complete production will be transferred to Huddersfield. Original management contacts will still be available to deal with your enquiries and add the personal touch you have become accustomed to.
---
Deep and Slow
An old adage for cutting cast iron, which is still true today. Why? Cast iron is pure iron with a large amount of carbon 3-3.5%, as the iron is machined the carbon causes the turnings to chip and break. Contrary to that, when iron is cast in a mould there is an intermediate surface effect present, up to 0.25mm thick, where the freezing of the iron against the mould wall pushes the carbon into the casting leaving a skin of ferrite. This surface skin lacks carbon and has no natural chipping characteristics. When skimmed with a cutting tool the ferrite will heat up, stick to the cutter and quickly render the cutting tool useless. The wedge sample (Top Right) shows the silvery ferrite around the edges and the formation of carbide at the tip.
---
Shots Clean
The new shot blast unit commissioned and running is in a purpose built rubber-lined unit. Internal measurements are 7500 long x 3800 wide x 2500. Allowing shot blasting on items 7000 x 3000 x 2000 up to 7 tonne using steel chilled angular grit grade G47. The working parts have been supplied by Hodge Clemco Ltd. of Sheffield.
---
Pattern Storage
We have on our records over 14,000 patterns, bear in mind some are as large as a car, some may have up to 50 core boxes and loose pieces. Each item we make has a computer generated 'Pattern Card'. This card holds all the pattern information, including where it is located, when it was last used and the order number, material to be cast in, internal costings, number of patterns, core boxes and loose pieces, methods etc. The storage area is limited so we like to return customer patterns with their castings, unless there are to be repeat orders. Owing to the nature of the materials used to make patterns, generally wood and metal, we cannot afford to insure them on our premises, although we take every care, we do remind customers they have to insure their own pattern equipment against fire damage and other losses in the case of a disaster.